About Us
---
The Campus Store, owned and operated by Valencia College, is your official store for all academic needs. We stock a wide arrangement of course materials, supplies, backpacks, technology, and Valencia Spirit Wear. Our goal is for our stores to be a one-stop shop for all your needs. Stay tuned, as we are continuously introducing new lines of high-quality products and services.
Your purchases at the Campus Store help keep your dollars on campus.
$7.8 Million of earned revenue has been reinvested back to our students in the past five years.
In Academic Years 15/16 & 16/17, we Rented 8,422 books and saved students an estimated $386,000.
We offer competitive prices by lowering many high-priced textbooks and negotiating prices below the National Average!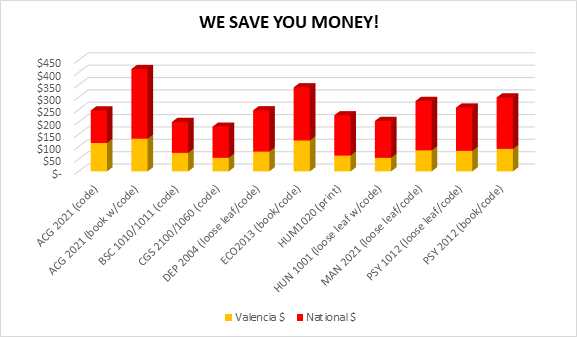 The Campus Store has five physical locations: West, East, Osceola, Lake Nona, and Winter Park Campuses. Valencia College Campus Stores are stocked ONLY with Course Materials required at their specific campus. Please shop at the appropriate campus and specify the right campus when ordering online. For your convenience, we also have Supply Vending Machines located at West, East, Osceola, Lake Nona, and Poinciana Campus.
Campus Store Operations Team:
Lisa Elvers, Director of Auxiliary Services, Campus Stores
lelvers@valenciacollege.edu
Frank Goodman, Assistant Director, Course Materials & Operations
fgoodman@valenciacollege.edu
Mando Quetel, Course Material Coordinator
mquetel@valenciacollege.edu
Donald Churaman, Campus Store Accounting Specialist
bookstorepayables@valenciacollege.edu
Adam Rahiem, Lead Retail Specialist
Webstore and VCTech
arahiem@valenciacollege.edu
Eric Schlunz, Retail Specialist
Course Materials & Program Uniforms
eschlunz@valenciacollege.edu
Joe Maxwell
Spirit Wear, Supplies, Graduation, Trending Items
jmaxwell17@valenciacollege.edu
---
Our Locations
If you have any questions or need additional information, please email us at onlineorder@valenciacollege.edu.