Customer Service
---
---
ORDERING ONLINE
Avoid the lines! Order Online!
All required and recommended books are also available via the Online Store.
HOW TO ORDER ONLINE:
Login or setup a new account with the Campus Store. It is vital for you to provide up-to-date and correct account information, name, VID, address, phone number and email address.
Select the appropriate term and campus to display your required course material.
Add course materials and supplies to your cart.
Select Shipping or Campus Pickup location, and check out.
PLEASE DO NOT ASSUME your online order is automatically ready for you to pick up as soon as you submit the order. A confirmation number will also be sent to you via email. A confirmation number does not mean that your order is ready to be picked up, but rather it is a tracking and reference number for your order. Advanced orders placed one-week minimum prior to the start of the semester should be ready to be picked up during the first week of the semester.
ORDER PICK UP/SHIPPING:
You will receive and email notification when your order is ready to be picked up at your Campus of choice. If you do not pick up your order or have not cancelled your order by the close of business on Friday the 3rd week of class, you will be refunded your order but charged a $25.00 restocking fee.
Shipped Orders will receive an additional email with their shipping tracking number. Shipping charges are non-refundable.
IMPORTANT INFORMATION:
Based on the availability at the time we pull the order, we do reserve the right to substitute a book (New or Used) for your order.
Please select your books from the Campus where you will attend class.
The same refund deadline and return policy is applicable to Online Orders.
back to top
---
SHIPPING POLICIES
Valencia College Campus Store is proud to offer you the most competitive shipping rates via UPS and FedEx. All of our shipments are professionally packed to ensure the safety of your items in route. On average, your order will be received in 5 - 7 business days. UPS Transit Map is located below for your convenience.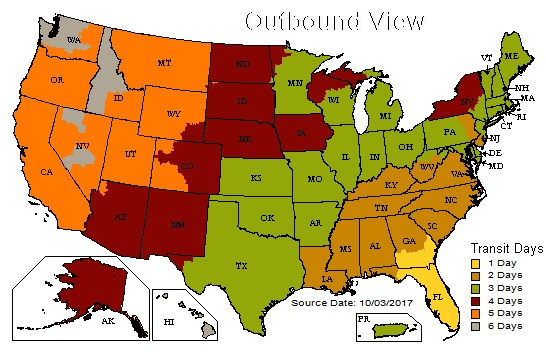 back to top
---
CAMPUS STORE & ONLINE RETURN POLICY
Original receipt and ID is REQUIRED. This applies to all forms of payment.
Refunds will be provided in the same form of payment as original purchase. Store Credit will be issued when original form of payment is not available.
At the discretion of the Store Manager, duplicate receipts, if available, may be reprinted for a $5 processing fee.
Management reserves the right to determine the value of returned items based on condition and salability.
New textbooks must be in original pristine condition.
TEXTBOOK/COURSE MATERIALS
Shrink-wrapped books or packages are not returnable if opened.
Textbooks with software cannot be returned if software is opened.
Digital Textbooks are not eligible for return once opened and/or scratched.
NO RETURNS on study guides or test prep materials sold as loose leaf or in a binder.
Shipping charges are nonrefundable.
FULL TERM (Fall, Spring, Summer):
Full Refund: First two weeks of classes or within 3 business days of purchase during third week of classes.
Partial Refund (75%): Third week of classes, unless purchased within 3 days. Must provide evidence that class was dropped/cancelled.
All other Times: There are NO refunds and all sales are final after last partial refund date.
SUMMER B and FLEX TERM CLASSES:
100% refund within the first week of class. Must provide evidence that class was dropped/cancelled.
GENERAL MERCHANDISE
TECHNOLOGY and ELECTRONICS:
Computers are non-returnable and non-refundable. NO EXCEPTIONS.
Unopened items may be returned for a full refund within 30 days of purchase.
Items defective upon opening are eligible for a full refund within 5 business days if returned in new condition with all pieces originally received, including packaging.
APPAREL, SUPPLIES, AND OTHER MERCHANDISE:
Unused items may must be returned for full price within 30 days of purchase if accompanied by a sales receipt and in salable condition.
ALL SALES ARE FINAL ON:
Snacks and Drinks, Clearance merchandise, Computers, Nursing Kits, Culinary Knife Kits, Program Kits, Uniforms (size exchange on unused items allowed), Art Paper, Scantrons, Study Guides, Test Preps, Lab Goggles, Stethoscopes, and Opened/Used items.
back to top
---
BUYBACK SERVICES AND DATES
BUYBACK OCCURS ON SPECFIC DATES, AT EACH CAMPUS, DURING FINALS EXAM WEEK AND THE FIRST WEEK OF CLASSES EACH SEMESTER.
TEXTBOOKS CAN BE SOLD BACK TO ANY CAMPUS LOCATION REGARDLESS OF PURCHASE LOCATION.
FOR CURRENT BUYBACK DATES AND TIME PLEASE VISIT OUR ONLINE CALENDER.
back to top
---