About Us
---
The Campus Store, owned and operated by Valencia College, is your official store for all academic needs. We stock a wide arrangement of course materials, supplies, backpacks, technology, and Valencia Spirit Wear. Our goal is for our stores to be a one-stop-shop for all your needs. Stay tuned, as we are continuously introducing new lines of high-quality products and services.
Your purchases at the Campus Store help keep your dollars on campus.
$7.8 million of earned revenue has been reinvested back to the college in the past five years.
We offer competitive prices by lowering many high-priced textbooks and negotiating prices below the national average!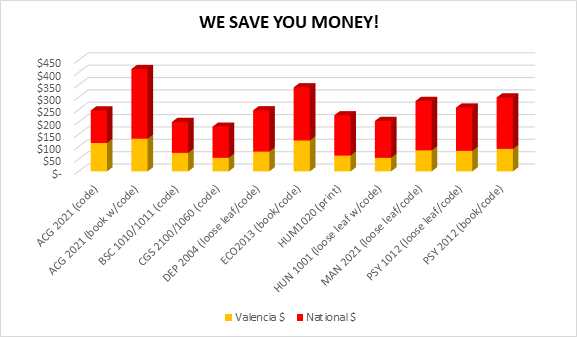 The Campus Store has four physical locations: West, Lake Nona, East and Osceola. Please shop at the appropriate campus and specify the right campus when ordering online.
Campus Store Operations Team:
Mona Liza Colon, Director, Auxiliary Services, Campus Store Operations
mcolon6@valenciacollege.edu
Donald Churaman, Campus Store Accounting Specialist
bookstorepayables@valenciacollege.edu
Judith Quiliche, Store Manager
jquiliche@valenciacollege.edu
---
Our Locations
UCF-Valencia College Virtual Campus Bookstore
407-823-3166
101 Aquarius Agora Drive
Orlando
,
FL
32816
East Campus - Building 5, Room 120
701 N Econlockhatchee Trl
Orlando
,
Florida
32825
Lake Nona Campus - Building 1, Room 135
12350 Narcoossee Rd
Orlando
,
Florida
32832
Osceola Campus - Building 4, Room 103
1800 Denn John Ln
Kissimmee
,
Florida
34744
West Campus - Building 2, Room 121
1800 S Kirkman Rd
Orlando
,
Florida
32811
If you have any questions or need additional information, please email us at onlineorder@valenciacollege.edu.
West Campus Store
Store hours

| | |
| --- | --- |
| Monday | 8:00AM - 5:00PM |
| Tuesday | 8:00AM - 5:00PM |
| Wednesday | 8:00AM - 5:00PM |
| Thursday | 8:00AM - 5:00PM |
| Friday | 8:00AM - 5:00PM |
East Campus Store
Store hours

| | |
| --- | --- |
| Monday | 8:00AM - 5:00PM |
| Tuesday | 8:00AM - 5:00PM |
| Wednesday | 8:00AM - 5:00PM |
| Thursday | 8:00AM - 5:00PM |
| Friday | 8:00AM - 5:00PM |
Osceola Campus Store
Store hours

| | |
| --- | --- |
| Monday | 8:00AM - 5:00PM |
| Tuesday | 8:00AM - 5:00PM |
| Wednesday | 8:00AM - 5:00PM |
| Thursday | 8:00AM - 5:00PM |
| Friday | 8:00AM - 5:00PM |
Lake Nona Store
Store hours

| | |
| --- | --- |
| Monday | 8:00AM - 5:00PM |
| Tuesday | 8:00AM - 5:00PM |
| Wednesday | 8:00AM - 5:00PM |
| Thursday | 8:00AM - 5:00PM |
| Friday | 8:00AM - 5:00PM |